Started in 1991, Malibu Makos Surf Club offers Southern California's premier surf camp that includes educators, ocean lifeguards, surfers, and other professionals who offer
surf lessons in Malibu
.We proudly offer group and
private

surfing lessons in Malibu CA
, corporate events, birthday parties, and surf camps for both children and adults. Our students always enjoy an exciting, fun, and safe experience emphasizing respect for the environment and ocean safety.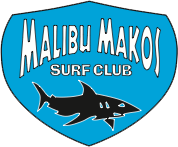 Malibu Makos Surf Club offers individuals and groups the best possible ocean experience. Our club features only qualified, trained instructors, who take time to teach students of all ages about ocean safety, respecting the ocean, and how to surf. We're passionate about the ocean and beaches, and we work hard to pass that information and passion to everyone that is part of the Makos family.
All of the instructors at Malibu Makos have surfing knowledge, experience, and teaching expertise. We provide lessons for beginners, intermediate instruction, and advanced surfing lessons. In addition to our kids surf camps and private surf lessons, we also offer corporate events and group lessons.
Malibu Makos always provides all of the equipment needed for lessons so no equipment purchases are necessary to begin your surfing journey.